Alan Walker is a singer, songwriter, record producer, and DJ from Norway, and he has a huge hit called Faded that has received numerous accolades all over the globe. While Walker doesn't sing the vocals on the song – that honor goes to a Norwegian singer by the name of Iselin Solheim – he did write the song and has been involved in everything from promoting it to helping to make the music video. Speaking of the video, Faded has garnered nearly three billion views on YouTube, as well as 22 million likes. It has gone nowhere but up in popularity since it first appeared on that channel.
How it Started
Walker's song Faded debuted on YouTube on December 3, 2015, and is currently the 41st most streamed song on Spotify, with more than 1.3 billion streams. If all of this sounds amazing, here's one more thing to learn about Alan Walker the songwriter: he was born in 1997, which means he was a mere 18 years old when Faded was released. Since the age of 14, Walker has been writing songs while living at home with his parents, but since he released his very first studio album, Different World, in 2018, he has nowhere to go from here but up, which means he probably won't be living with them for long.
In February of 2016, Walker, along with Solheim and string support, debuted a live performance of the song at the X Games in Oslo. The performance was aired live on Norwegian television. The song is a revamped version of a song Walker originally composed called Fade, with the main difference being a piano intro and outtro and uncredited vocals by Solheim.
The Song
If you take a look at Alan Walker's Faded sheet music, you'll notice that it was written in common (4/4) time in the key of G major, which means it has one sharp in it – an F sharp. It is written as a solo piano part and there are a total of 78 measures in the song. The length of the song is 3 minutes and 25 seconds, and while it is written for piano, that doesn't mean that only piano players can perform the song.
What does the song sound like? Whether you're a musician or not, you'll love the melody because it is played at the perfect speed – not too fast and not too slow. It has a simple and almost haunting melody, which means you can feel a lot of emotion behind each and every note. It is not a difficult song to play or sing, but it still takes a good musician to play it or sing it well. Between Solheim's voice and Walker's musical writing talent, it is the perfect song that is bound to appeal to people with all types of musical tastes.
Download Printable Sheet Music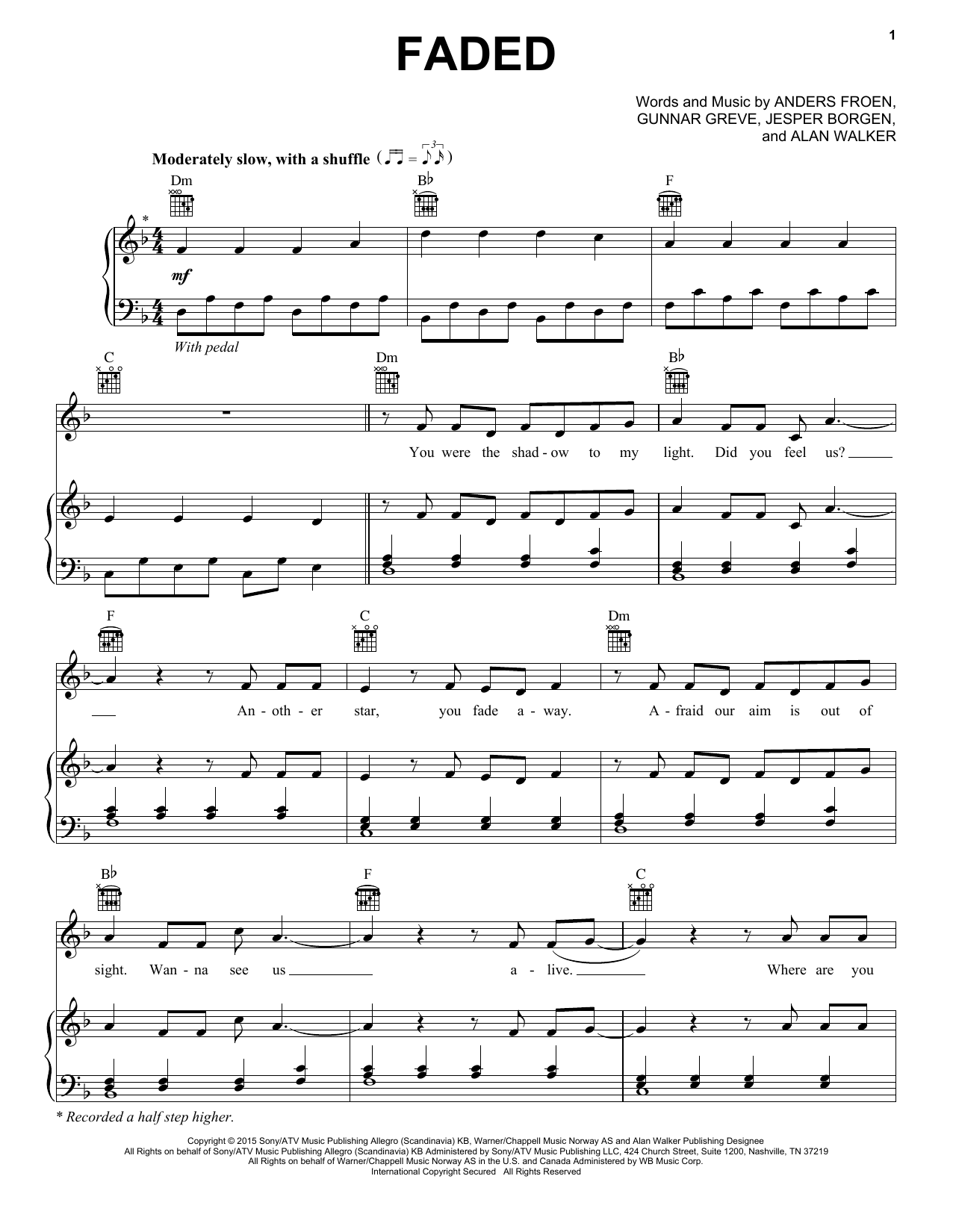 Creating a Masterpiece
In many ways, Faded can be considered a masterpiece, in part because it is both gentle and quirky, hip and traditional, and it could very well be its overall simplicity that makes it such a well-loved song. Whether you're playing it or singing it, the notes will grab you as you do so, and it is certainly one song you will never forget.
Alan Walker's Faded is still gaining in popularity, and if you've not heard it yet, you are encouraged to find the video on YouTube or look it up on one of the many musical score websites, where you can click on an icon and hear it played for you on the spot. If you're a musician, you can also buy a copy of the score from these same sites, allowing you to perform the music yourself.
Music Video